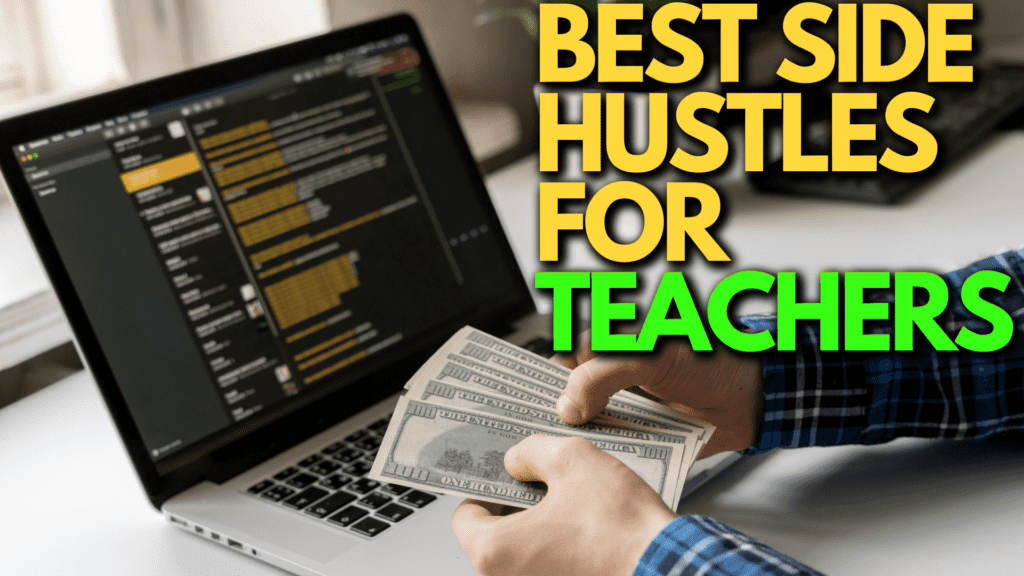 Hello and welcome to this article on side hustles for teachers. If you're a teacher looking to supplement your income, you're in the right place. This article was actually requested by numerous viewers of my YouTube channel with over 400,000 subscribers – so we know there's a demand for this type of content!
Teaching is a rewarding profession, but it's not always the most lucrative. According to the National Center for Education Statistics, the average salary for public school teachers in the United States is around $61,000 per year. Many teachers also have student loan debt, which can further limit their financial flexibility.
However, the good news is, there are ways for teachers to supplement their income and overcome financial struggles. Enter side hustles: the perfect way for teachers to earn extra money while still focusing on their primary job. A side hustle is a flexible, part-time job or business that can be done on the side, often with the help of technology.
In this article, we will discuss the benefits of side hustles for teachers and provide five of the best side hustles for teachers. We'll also provide an income range for each of the side hustles, as well as tips on how to get started. For low-income teachers who may be struggling to make ends meet, a side hustle can be a game-changer, providing extra income and the flexibility to work on their own terms.
II. How Many Teachers Quit Per Year and Why They Quit
According to the National Center for Education Statistics, the annual turnover rate for teachers in the United States is around 8%. There are a variety of reasons why teachers quit. Some of the most common include low pay, difficult working conditions, and lack of administrative support. Many teachers also report feeling burnt out, overwhelmed, or undervalued, which can contribute to their decision to leave the profession.
III. The Benefits of Side Hustles for Teachers
Side hustles can offer a variety of benefits to teachers, including the opportunity to earn extra income, flexibility, and skill development. Here's a closer look at each of these benefits:
Extra income: One of the most obvious benefits of a side hustle is the ability to earn extra income. Teachers often face financial challenges, including low pay and student loan debt, and a side hustle can help alleviate some of that burden. By taking on a part-time job or freelance work, teachers can supplement their income and improve their financial situation.
Flexibility: Another advantage of a side hustle is the flexibility it offers. Many side hustles can be done on a part-time basis, and can be tailored to fit around a teacher's existing schedule. This is especially important for teachers who have demanding workloads and other commitments, such as family obligations or further education.
Skill development: Side hustles can also offer opportunities for skill development and professional growth. For example, a teacher who takes on a tutoring gig can improve their communication and teaching skills, while someone who starts an online business can learn marketing and entrepreneurship. That same online business can leverage the earning power from affiliate marketing conversions with very little additional effort. These skills can be valuable both in and out of the classroom, and can enhance a teacher's overall career prospects.
Overall, side hustles can provide important benefits for teachers, allowing them to earn extra income, gain flexibility, and develop new skills. By taking advantage of these opportunities, teachers can not only improve their financial situation but also enhance their professional development and quality of life.
IV. 5 of the Best Side Hustles for Teachers
Tutoring: Many teachers have valuable expertise and experience in specific subjects, making tutoring a popular and lucrative side hustle. Tutoring can be done in person or online, and can be tailored to fit around a teacher's existing schedule. Depending on the subject and level of expertise, tutors can earn anywhere from $20 to $100 per hour. Websites and apps like Wyzant, Chegg, and TutorMe allow teachers to find tutoring opportunities both online and in person. These platforms typically take a commission or charge a subscription fee to connect tutors with students, but they can be a great way to find new clients and build a tutoring business.
Freelance Writing or Editing: For teachers who enjoy writing, freelance writing or editing can be a great side hustle. There are many opportunities for freelance writing and editing, including writing blogs, creating educational materials, or editing academic papers. Freelance writers and editors can earn anywhere from $15 to $50 per hour. Freelance writing and editing opportunities can be found on sites like Upwork, Freelancer, and Fiverr. These platforms allow freelancers to create profiles, showcase their work, and bid on projects. Freelance writers and editors can also network with clients and other freelancers on social media platforms like LinkedIn and Twitter.
Sell on Teachers Pay Teachers: Teachers Pay Teachers is an online marketplace where teachers can buy and sell educational materials, such as lesson plans, worksheets, and activities. Teachers who create high-quality materials can earn passive income by selling them on the site. The earning potential varies depending on the popularity and quality of the materials, but some top sellers have reported earning well over $100,000 per year.
Teachers can sell their educational materials on the Teachers Pay Teachers website. They can create digital resources, upload them to the site, and set their own prices. The site takes a commission on each sale, but it can be a great way to earn passive income while sharing resources with other teachers. Selling digital products, such as online courses, e-books, and printables, can offer several benefits over selling physical products. selling digital products can offer several benefits over physical products, including lower overhead costs, scalability, flexibility, instant delivery, and environmental friendliness. These benefits make digital products an attractive option for teachers looking to start a side hustle or earn extra income.
Online English Teaching: There is a high demand for English teachers in many countries around the world, particularly in Asia. Teachers can take advantage of this demand by teaching English online. This side hustle requires a reliable internet connection and a teaching certification, such as TEFL or TESOL. Online English teachers can earn anywhere from $10 to $25 per hour. Online English teaching opportunities can be found on sites like VIPKid, QKids, and iTutorGroup. These sites connect teachers with students in other countries, and provide the curriculum and technology needed to teach online. Teachers can set their own schedules and work from home.
Pet Sitting or Dog Walking: For teachers who love animals, pet sitting or dog walking can be a fun and rewarding side hustle. Many pet owners are looking for reliable and trustworthy people to take care of their pets while they are away. Pet sitters and dog walkers can earn anywhere from $15 to $50 per hour, depending on the location and services provided. Apps like Rover and Wag! allow pet sitters and dog walkers to find clients in their area. These platforms take a commission on each booking, but can be a great way to find new clients and build a pet sitting or dog walking business.
By using these websites and apps, teachers can easily find and manage their side hustles, and connect with clients or students all over the world. These are just a few of the many side hustles available to teachers. By taking advantage of their skills, expertise, and interests, teachers can earn extra income and enhance their professional development while still maintaining their full-time jobs.
Having a side hustle as a teacher can offer several benefits, especially for low-income teachers, including: Extra income, Flexibility, Skill development, and remote work opportunities / work from anywhere. A side hustle can help teachers achieve a better work-life balance by giving them an outlet for creative expression or a way to pursue a passion outside of teaching.
It's important for teachers to explore different side hustles that suit their skills and interests. While some teachers may enjoy selling digital products on Teachers Pay Teachers, others may prefer tutoring, freelancing, or driving for ride-sharing apps like UBER or LYFT. The key is to find a side hustle that aligns with their interests and allows them to use their skills.
It's also important to remember that side hustles require time and effort, but they can provide additional income and help with financial struggles. Teachers should be prepared to dedicate time and energy to their side hustle in order to see results. With commitment and determination, a side hustle can be a valuable addition to a teacher's life and career.
I hope this article helps you on your journey to financial freedom. Feel free to share this article with someone who could benefit from this information. For other personal finance and side hustles, you can also check out my YouTube Channel: Ron Yates.